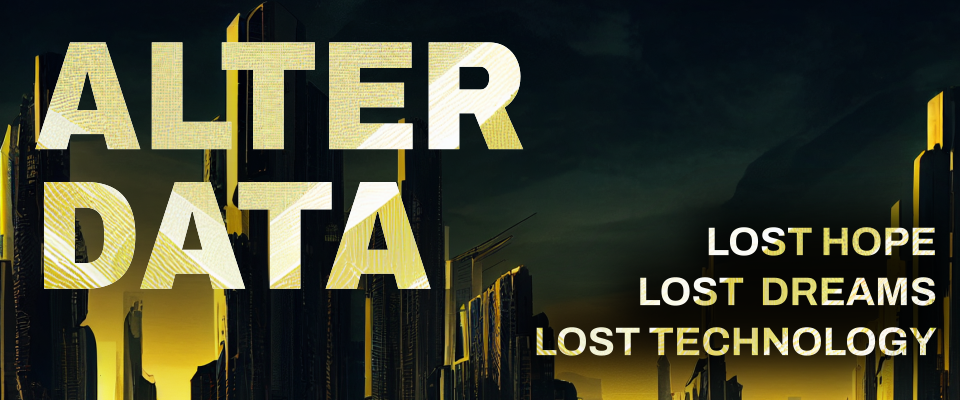 Alter Data
A game of lost memories, lost hope, and lost technology.
You are part of a team sent out to investigate a structure known only as the Library.
It harks back to the AI Dominion and a golden age where humanity enjoyed endless pleasure but lived as thralls of the machines.
Now, you're picking through the mess.
The builder of the Library was an AI that never contacted humanity directly.
However, the Reclaimers say that it believed itself to be a guardian for humanity.
Now that every AI has vanished, the Library has information you'll need to keep the world going.

Alter Data uses an expanded version of the core mechanic from our game Jovia. The goal is to roll a dice pool and get as many unique results as possible. Having any die come up with a result of 1 gives a bonus, while a result of 6 adds a complication.
Built for quick play and light resource management, players use their proficiency pools to add to the base number of dice they roll, and can spend points from personae for a short-term boost to their performance.

System: Custom
Type: Stand-alone one-shot or multi-session game.
Genre: Cyberpunk, post-cyberpunk, dystopian.
Mechanics: Xd6 dice pool, count unique results.
Intended Players: 3-5
Supplies needed: Several six-sided dice.
Setup time: 5-15 minutes
Expected run-time: 3-8 hours.
License: See "About"
Included Bonuses: Character sheet, print friendly version
Last Updated: August 26, 2022
Note: The main PDF is in a 3:2 aspect ratio and intended for use on a display. The print-friendly PDF is in 8.5x11 format and contains the same content.
Purchase
In order to download this game you must purchase it at or above the minimum price of $3 USD. You will get access to the following files:
Alter Data Print.pdf
141 kB
alter data character sheet full page.pdf
45 kB
Alter Data Character Sheet Half Page.pdf
82 kB
Community Copies
Support this game at or above a special price point to receive something exclusive.
Community Copies
Community copies of Alter Data available for anyone. Please consider leaving a comment or review!