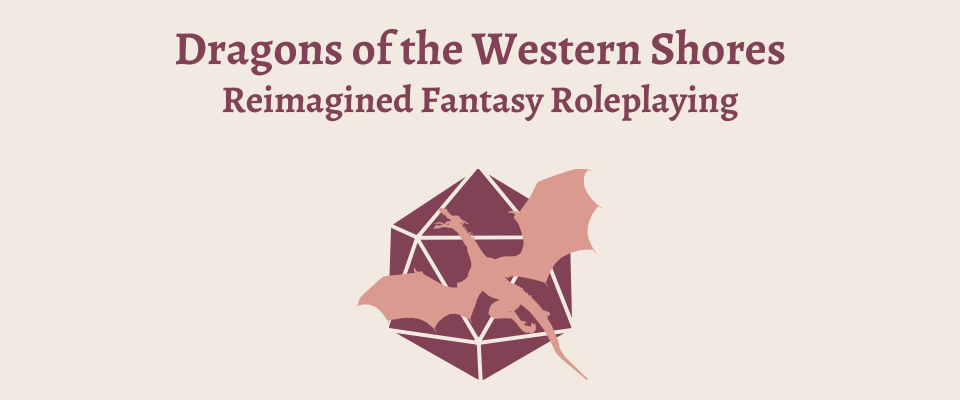 Dragons of the Western Shores
The Western Shores of Othenar are the center of world trade. Somewhat insulated from Othenar's other political entities, the merchant cities and small principalities of the Shores are a second home to people and cultures from all over Othe.
The Shores are known for their trade and prosperity, but the Bitterhorn Mountains they border are full of dangerous monsters and brigands who plunder what they can from the more prosperous valleys and coastal regions.
It's a land made for adventurers brave enough to strap on their boots and scabbards, merchants and nobles who plot intrigue against each other for profit and prestige, and all sorts of magicians, inventors, soldiers, and rogues.
Mission
A while back, I made a game called Microdragons.
It's an obvious homage to one of the classic tabletop roleplaying games. My goal with that was to replicate as much of the system as it was possible to do in a day, without drawing directly from any of the classics.
Dragons of the Western Shores is another take on that, going even a step further. It is the classic d20 experience as I would have designed it, built from the ground-up with that core mechanic as its only core principle.

The current version is a proof of concept. My laptop's off for repair, so I've been doing the best I can on a laptop I'm borrowing which doesn't have any of the layout or graphic design tools I normally use.
Details
System: Custom
Type: Prototype Rulebook
Genre: Fantasy
Mechanics: d20
Intended Players: 3-5
Supplies needed: One twenty-sided die
Setup time: 30-45 minutes
Session time: 2-4 hours.
License: See inside.
Included Bonuses: Character Sheet
Last Updated: August 21, 2022
Download
Click download now to get access to the following files:
Dragons of the Western Shores.pdf
483 kB
Dragons of the Western Shores Character Sheet.pdf
66 kB